DESIGN:
"KETCO" Vibro Tea Sack packer has a strong Iron base-plate with a vibrating platform. At a time two P.P. Tea bags can be charged together which is why it is called a Duplex Tea Packer as well.
We have introduced another model (2) specially designed for packing Multi wall paper sacks. A firmly designed sack holding box has been incorporated as per the final dimensions of the packed paper sacks. This new design helps in saving a lot of manual labour used for packing/compacting tea as per pallet sizes while it is being filled. Easy mounting and unloading arrangement has been provided.
In addition, it is preferred to use a feed hopper (which is optional) as shown in Model 2. It is fabricated out of aluminum sheet, suspended from a pair of strong columns.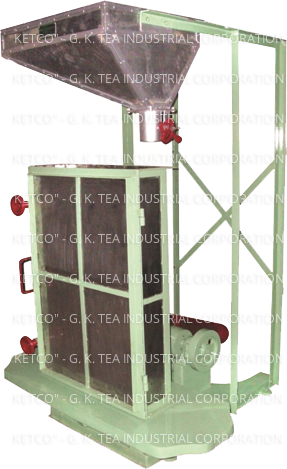 It helps to maintain a regular and even supply of tea to the chests/sacks. Regular and even flow provided by the hopper helps every particle of tea to settle without leaving any void. So each sack packs more tea. It saves packing cost and does away with detrimental effects from air percolation.
MOTION:
A high speed oscillating motion imparted to the packing platform by the eccentric shaft fitted on ball bearing, gives a vibrating motion which helps the tea to settle down without leaving any void. Hence you get even packing throughout the sack.
ADJUSTMENTS:
Only one adjustment at the discharge mouth of feed hopper is required to maintain the flow of tea in accordance with grades.
MAINTENANCE:
No maintenance is required except cold weather over-hauling. Does away with lubrication, saves floor from oil hazards.
CUSTOMIZATION:
Only "KETCO" offers customized solutions for your packing needs. Be it for packing jute bags, P.P. bags or Multi-wall paper sacks.
Technical Data
| | |
| --- | --- |
| Power | 2 HP/1.5 KW |
| RPM | 600 - 800 |
| Floor Area | 1800 mm x 1760mm |
| Height | 1808 |
| Gross Wt. | 636 Kgs. |
| Net Wt. | 530 Kgs. |